Leigh Anne Milne,
End of Life Care
End of Life Doula, also known as Death Doula
Conscious Dying. Death is inevitable, how we die is not. We reclaimed ownership of childbirth and now we're owning our dying. Death is not a medical intervention, it is a human experience.
A death doula, or End of Life Doula is a person who assists in the dying process, much like a midwife or doula does with the birthing process. It is often a community based role, aiming to help families cope with death through recognizing it as a natural and important part of life.
"Live before you die, so that death is also a lively celebration." BKS Iyengar
Role
Represents the needs of the dying
Legacy planning
Advocate for the best possible experience for the client – this is unique to each client
Assist clients in creating and carrying out their health care treatment decisions
Share knowledge about legalities, options in Canada
Facilitate communication between client, family and other care providers
Protect the client's dignity and the family's memory during the death experience
Practical |
Services Available
End of Life Companioning
Comfort Massage
Restorative Yoga – as preparation for death and care giver support
Respite care
Bedside reading
Bedside Vigiling
Spiritual ritual during transition stages, resolution ritual, forgiveness ritual – if desired
Advanced Care Directive Planning
Guidance through the legal and medical process
Home Funeral Guide
Green Burial
Celebrant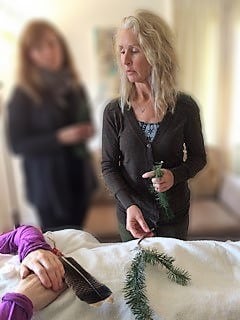 Home Funeral Guide
As a Home Funeral Guide Leigh Anne can guide you through the loving ritual of keeping a deceased loved one's body in your home for a few hours or a few days. Three days is a common period of time but it may be fewer or more. It's your choice and you may have more choices than you realize.
You may wish to transport your loved one's body, bathe and dress them and invite family and friends to participate. Hand decorate a casket or create a shroud. Celebrate in silence or in song. Leigh Anne can guide you through the legal, practical and creative ways to celebrate and honour your loved one.
Hybrid Funerals
We can work together with your funeral director to assure all your wishes are met.
Yoga as Preparation for Death
"It is my profound hope that my end can be your beginning" -BKS Iyengar
Yoga may provide support and healing for family, rest and restoration for care givers, and equanimity and fortitude for the dying. Yoga poses and sequences are catered to the bereavement and end of life process. Yoga poses and breath practices facilitate a state of mind and body that may bring about ease and release.
Pricing
You may wish to plan for a modest burial or green burial. You may be most interested in what alternatives are available, i.e., shrouds, seagrass caskets or Living Reef.
You may be someone wondering how to do this on your own.
Pricing varies depending on your preferences.
Please call to discuss what package and pricing plan will work best for you.
Leigh Anne's Background
In 1990 Leigh Anne graduated in BC as a massage therapist and went on to become an RMT in BC, ON, and NS Canada as well as the state of Hawaii. Prior to this, in 1982, Leigh Anne developed her love for the practice of yoga and she became a certified Iyengar Yoga teacher after completing her three year training in 2002. Since then, Leigh Anne also certified as a personal trainer and yoga therapist.
With so many years in the field of health and healing, helping people manage stress and regain fitness and function, regaining health and healing from life's challenges, it felt natural to move into this final stage of care.
If we consider healing as a returning to wholeness, end of life care may help facilitate this.
My interest in how we die was piqued during my father's dying and death in 2006.
Following this I became a bit obsessed with this subject but not much was being written or spoken about it at that time. Eventually my teachers appeared on Maui when I attended the 'Dying into Love' program with Bodhi Be, Joan Halifax and Ram Dass. In 2016 and 2017 I attended the Maui International Death Doula Intensive and in 2016 I enrolled in Doorway into Light Death Doula Training program led by Bodhi Be and with Deanna Cochran, Jerrigrace Lyons, Ram Dass, Stephen Jenkinson and Zenith. I was so in awe of the idea of a home funeral ritual and life celebration I continued this study with Jerrigrace Lyons and Don Morris.
As a contributing writer, Leigh wrote in a section titled 'Why do we do Yoga' about how her yoga helped her cope while sitting by the bedside of her dying father in the book 'The New Yoga for Healthy Aging' by Suza Francina, 2007
For Leigh Anne's background in yoga please, visit her Yoga Bio page.
Schedule an End of Life Care Appointment with Leigh
[scheduling site="https://app.acuityscheduling.com/schedule.php?owner=11376885&appointmentType=7784778″]